Five GreenAngel Co's Awarded "Ready to Rocket" in 2011
Vancouver, BC, February 23, 2011 – GreenAngel Energy Corp. ("GreenAngel") (TSX-V: GAE) is pleased to report that five of its green technology investee companies –

dPoint Technologies, Delaware Power Systems, Light-Based Technologies, Paradigm Environmental and Rapid Electric Vehicles Inc. – have been recognized as CleanTech "Ready-to-Rocket" companies in the green energy technology sector. See the ready to rocket list: http://greenangelenergy.ca/r2r/
Each year, for the past nine years, the Vancouver-based technology consulting firm, Rocket Builders has produced its "Ready-to-Rocket" list of 25 companies in B.C., based on the greatest revenue potential and investment returns. For the first time this year (February 2011) the Rocket Builders have created a list specific to Clean / Green Technology companies.
Rocket Builders' annual presentation is keenly observed by industry leaders and investors worldwide and represents a strong validation of the continued progress made by each of the GreenAngel investee companies over the past twelve months.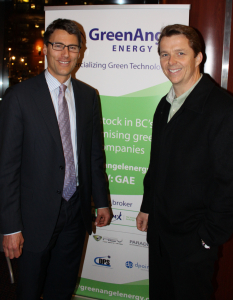 The addition of a Cleantech list focusing on Clean and Green Energy Technology companies further justifies investments in this emerging industry. Learn more about the GreenAngel Investment Model.
This year the Ready to Rocket event and subsequent Vancouver Enterprise Forum was attended by the Mayor of Vancouver, Gregor Robertson. Mayor Gregor was driven to the event in an electric vehicle made by REV. Mayor Gregor met with Bob de Wit, CEO of GreenAngel who explained the GAE business model and investment policy.
GreenAngel's mission is to invest in early-stage private green technology businesses, developing them and achieving liquidity through acquisitions, mergers or IPOs. The companies awarded with "Ready to Rocket" status are as follows:
DPoint Technologies develops novel polymer membranes that significantly improve the energy-efficiency of Heating, Ventilating and Air-Conditioning ("HVAC") systems used in buildings. The proceeds will be used primarily for working capital funding dPoint's growth and to expand sales and R&D activities. Learn more about dPoint Technologies
Delaware Power Systems has produced the world's first universal battery module platform for electric vehicles and has recently entered into a battery supply contract for two electric vehicle prototypes and three battery systems with First Automobile Works, China's largest auto manufacturer. Delaware has also recently had its battery system installed on a concept electric vehicle of Volkswagen A.G. Learn more about Delaware Power Systems
Light-Based Technologies ("LBT"), using programmable linear control, delivers controllable quality of light characteristics that are attractive to the consumer and hence drive market adoption. LBT technology easily integrates with existing infrastructure, enabling product sales now while our firmware versus hardware design architecture ensures that products using LBT technology can be rapidly upgraded through software in order to incorporate exciting new features in the future. Learn more about Light Based Technologies
Paradigm Environmental Technologies is a private company located in Vancouver, British Columbia, Canada that has developed MicroSludge®, a patented technology industrial and municipal wastewater treatment plants (WWTP.) MicroSludge is a sustainable technology that significantly enhances the anaerobic digestion process, thereby reducing operating costs and increasing plant capacity. MicroSludge is modular, and can be easily deployed at existing WWTP facilities. MicroSludge can also be used to process industrial wastewater applications including pulp and paper, meat and food processing, pharmaceutical, and chemical plants. Learn more about Paradigm Environmental
Rapid Electric Vehicles (REV) exists where automotive and energy industries converge. We develop and distribute the most advanced 100% electric vehicles in our class. Our fleet market vehicles feature a proprietary drive system that is proven Canadian tough and enables its stored energy to power industrial equipment, buildings and homes. Learn more about Rapid Electric Vehicles
The announcement by Rocket Builders attests to the progress being made towards commercialization by these companies and moves GreenAngel forward in realizing the potential of its investments.
About GreenAngel Energy
GreenAngel Energy Corp. is the first publicly traded company that invests solely in emerging private green technology companies. We provide an avenue for public investors to gain access to a portfolio of the most promising angel-stage investments across a spectrum of green technology sectors. Our focus is commercializing new technologies that produce renewable energy, improve energy efficiency, or use renewable energy resources such as water, wind and solar. We also work with companies that deploy or manage technologies and processes that reduce greenhouse gas (GHG) emissions. In addition to providing strategic capital to investee companies, GreenAngel also mentors and advises investees to help ensure these companies achieve commercial success. The firms include Delaware Power Systems, Light-Based Technologies, Habitat Carbon Assets, Rapid Electric Vehicles, DPoint Technologies, and Paradigm Environmental Technologies.
Neither the TSX Venture Exchange nor its Regulation Services Provider (as that term is defined in the policies of the TSX Venture Exchange) accepts responsibility for the adequacy or accuracy of this news release.
ON BEHALF OF THE BOARD
Bob de Wit
CEO and Director
For further information, contact:

Investor:

Bob de Wit, CEO
GreenAngel Energy Corp.

Phone:+1.604.916.3434
Email: bob@greenangelenergy.ca

Media:

Steve Campbell
Campbell & Company Strategies Inc.

Phone:+604.803.8267/+1.604.888.5267
Email: scampbell@campbellpr.bc.ca
Disclaimer for Forward-Looking Information
Certain statements in this release are forward-looking statements, which reflect the expectations of management regarding the Company's listing of its common shares on the TSX Venture Exchange. Forward-looking statements consist of statements that are not purely historical, including any statements regarding beliefs, plans, expectations or intentions regarding the future. Such statements are subject to risks and uncertainties that may cause actual results, performance or developments to differ materially from those contained in the statements. No assurance can be given that any of the events anticipated by the forward-looking statements will occur or, if they do occur, what benefits the Company will obtain from them.