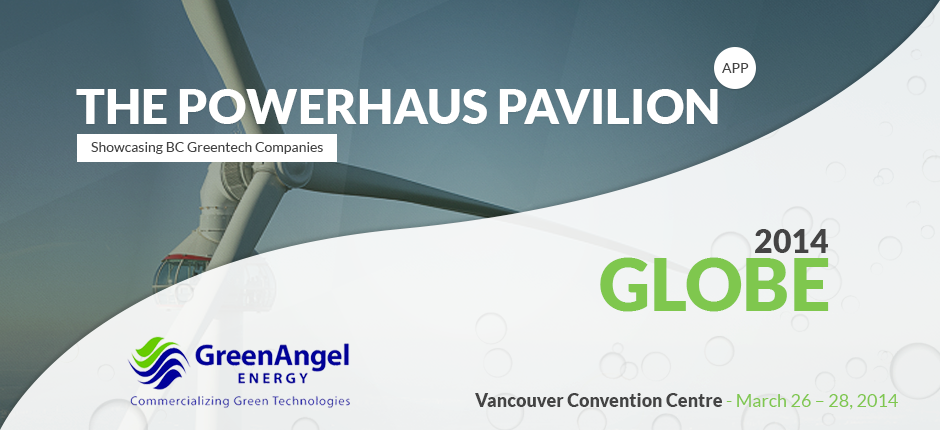 PARTICIPATING

COMPANIES
THE SCHEDULE OF
PRESENTATIONS
Wednesday March 26
Thursday March 27
Friday March 28
LIST OF
SUPPORTERS
BC BioEnergy Network
BCIC
Canaccord
Central City Brewers
Deloitte
Foresight CleanTech Accelerator
GreenAngel Energy Corp
GreenTech Exchange
NRC-IRAP
NSERC
Simon Fraser University
TMX
Vancouver Economic Commission
ABOUT
POWERHAUS
Welcome to the First-Ever PowerHaus Pavilion at GLOBE 2014
In partnership with the PowerHaus Network, GLOBE is excited to host the first-ever PowerHaus Pavilion at GLOBE 2014 designed to promote the development and commercialization of innovative clean technologies.
Thanks to the generous support of Deloitte, the National Research Council of Canada Industrial Research Assistance Program (NRC-IRAP) and many others, the PowerHaus Pavilion will showcase the innovative technologies, products and services of over 30 Canadian clean technology companies.
These companies will be meeting with potential investors and clients and will be participating in a series of Power Pitch sessions daily from 1pm to 5pm in the GLOBE Grizzly Den, otherwise known as the Presentation Theatre in the GLOBE 2014 Exposition. Following the pitches, investors are invited to our daily Power Hour for drinks and to meet the companies.
GLOBE 2014 is produced by GLOBE Events, a member of the GLOBE Group of companies dedicated to the business of the environment. The GLOBE Group's expertise lies in project management, event development, and management consulting in the fields of environment and energy, urban development, and corporate responsibility. For over a quarter century the GLOBE Group has been promoting the development and deployment of clean technology solutions to solve the world's sustainability problems.
The PowerHaus Network was formed in 2013 as an initiative of Simon Fraser University in Collaboration with National Research Council's IRAP program to provide emerging technology companies with access to angel and early stage capital and experienced business people. The PowerHaus Network (see powerhaus.info) meets regularly with companies seeking both human and financial capital.
Together GLOBE and the PowerHaus Network represent a formidable force in promoting investment in emerging technology companies. This booklet will be your guide to the innovative companies that are part of the PowerHaus Pavilion.
Do take the time to visit with each and every one of these companies. Their ideas, technologies, services and products could literally change the world as we know it. You could be a part of the exciting future they have in store for us. Enjoy the show!