DPoint Technologies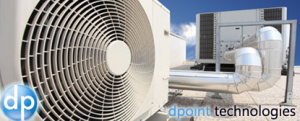 DPoint Technologies (www.dpoint.ca) develops and sells membranes and energy recovery technology that significantly improve the energy efficiency and air quality in buildings.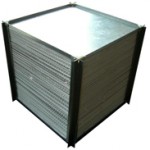 DPoint has adapted its patented Fuel Cell heat and humidity exchanger technology for use in Energy Recovery Ventilator (ERV) systems. An ERV transfers heat and humidity between the intake and exhaust in a residential or commercial building's ventilation system. By transferring both heat and moisture from incoming air to the exhaust air during the summer, an ERV system can dramatically reduce the load on a building's air conditioning system. During the winter, the same ERV will transfer heat and moisture from the exhaust air into the incoming stream to reduce the load a building's heating system. 
DPoint's patented technology is designed to be easily manufactured using low-cost materials. This new ERV design can be produced to fit virtually any size system, provides improved performance and is competitively priced for the heating, ventilation and air conditioning (HVAC) industry.
DPoint has over 20 of the leading HVAC companies in North America, Europe, China and India including Honeywell, Daikin and Goodman as clients.  The top 3 residential energy recovery companies in Europe are using DPoint membranes.
The company was recognized as the 60th fastest growing company in Canada, was named Best New Exporter in BC, as well as Top 15 Greentech companies in Canada by Deloitte, and was a finalist at the TIA Awards for Product Innovation.
DPoint's founder and CEO, James Dean, is a proven entrepreneur having successfully grown and sold his previous Greentech company.  He was recognized as one of Canada's Top 40 Under 40 and was a finalist at the Ernst&Young Entrepreneur of the Year Awards.
The company has two important strategic investors including the Zehnder Group (One of Europe's largest HVAC Companies) and the founders of Tridel (one of Canada's largest real estate developers).
Click here for blog posts related to DPoint Technologies
Download DPoint Technologies' Investor Presentation (PDF)
Related Posts